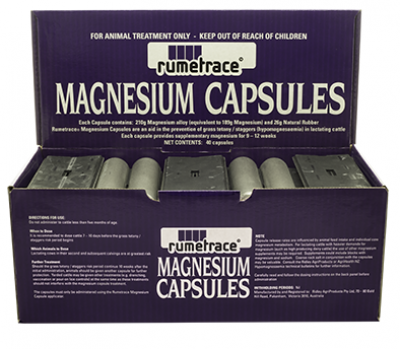 Rumetrace Magnesium Capsules
Contains 210g magnesium alloy (189g magnesium) for cattle.

Features
Capsule form administered to individual cattle
Longest lasting form of Magnesium supplementation available for NZ cattle
Sustained Mg release for 9 - 12 weeks
Releases Mg exponentially at 1.5% per day
Research validates consistent release over time
New research with two capsules per animal
Rumetrace brand exclusive to vets
Available in cartons of 40 capsules, capsules sold individually by vet wholesalers
Benefits
Dose surety for every animal treated

Provides a solution for supplementing Mg when daily pasture dosing or water trough treatment is impractical on farm; reducing risk of animal mortality

Avoids having to supplement magnesium on a daily basis

Magnesium availability to the cow is not dependant on feed and water availability/intake

Cattle can also be treated with two capsules, doubling daily Mg release to 4 grams per day

AgriHealth technical advice and support available to NZ farmers and rural vets
Easy to store and dispense correct quantity for all herd sizes
Description
Capsule comprised of two semi-cylindrical magnesium alloy castings hinged together along one side by a rubber moulding.
Pack Sizes
Available in cartons of 40 capsules
Rumetrace applicators available separately
Action
On entering the reticulo-rumen, the folded cylinder springs open to prevent regurgitation. The conductive particles of the rubber hinge act as a cathode, and the magnesium alloy semi-cylindrical components act as anodes which erode slowly by electrolysis to release magnesium at a constant rate of 1.5% of weight per day . The erosion occurs continuously over a period of 9 - 12 weeks (refer Rumetrace Flyer for release graph over time). The magnesium is released in a form (Mg++) that can be immediately absorbed into the bloodstream.
Indication
A sustained-release magnesium capsule to aid in the prevention of grass staggers (hypomagnesaemia) in cattle, particularly during the high-risk period associated with calving and lactation in the spring. Aids in the prevention of grass staggers for 9 - 12 weeks.
Dosage
Administer 1 capsule per animal 7 - 10 days before the grass staggers risk period begins or 7 - 10 days prior to calving. Administer using the Rumetrace Magnesium capsule applicator.
Note if administering to cows in the face of a grass staggers (hypomagnesaemia) outbreak, also administer another Mg supplement (eg MgO) to cows for 7 - 8 days as sufficient Rumetrace Mg release via electrolysis may not commence immediately.
Withholding times
Nil
Special Precautions
Do not use excessive force during administration. Wait until the animal swallows to progress the capsule applicator over the back of the tongue and down the throat. Do not dose bellowing cattle.
Other
Store below 30°C in a dry place.
Restricted Veterinary Medicine, ACVM Registration Number A10958