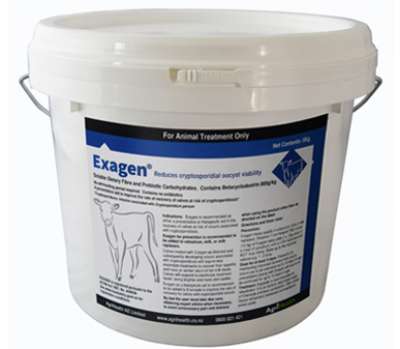 Exagen
Exagen is a powder for oral administration to calves that are at risk of cryptosporidiosis infection associated with Cryptosporidium parvum.
Features
A preventative and therapeutic aid for calves
Benefits
Calves with cryptosporidiosis related scours require reduced period of treatment

Calves respond to electrolyte treatment faster
Description
Contains soluble dietary fibre, prebiotic carbohydrates, and beta-cyclodextrin 800g/kg to help with Cryptosporidium parvum infection.
Pack Sizes
5kg, 20kg
Indication
Exagen is recommended as either a preventative or therapeutic aid in the recovery of calves at risk of scours associated with cryptosporidiosis.
Contains beta-cyclodextrin which may aid in the reduction of cryptosporidial oocyst production.
Dosage
Prevention:
It is recommended to add Exagen to colostrum, milk, or milk replacers.
Add one non-heaped (flat) scoop (12.5g) of Exagen twice daily (i.e. 25g daily) to a meal of colostrum, milk or milk replacers and not vice versa. Make up to the required volume for the feed e.g. 1 – 2 litres.
Dose for at least 3 days.
If benefits for maintaining improved recovery from cryptosporidiosis scours are to be extended out to 18 days of age, preventative dosing with Exagen will require to be continued for up to 12 days of age.
Treatment:
Exagen as a therapeutic aid is recommended to be added to Enervade to improve the rate of recovery for calves with cryptosporidial scours. Add 12.5g Exagen twice daily with 6 – 8 hours between the first two treatments. Give two treatments the first day and at least one dose of 12.5g Exagen with Enervade on both day 2 and day 3 of treatment.
Withholding times
Nil
Other
Store at room temperature in a sealed container under dry conditions. Avoid extremes of humidity and temperatures.
ACVM Registration Number: A09536