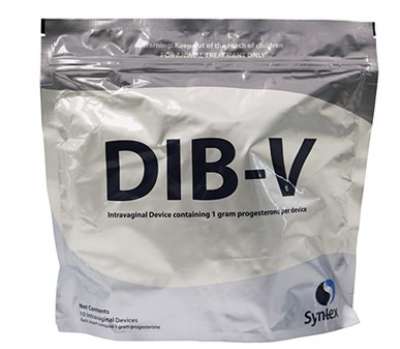 DIB-V progesterone insert
Contains 1 gram progesterone per insert for cattle
Features
More flexible shape, with softer tips
V shaped silicon elastomer insert
Unique sleek design
Excellent retention rates
Benefits
Improved cow comfort
Less pus on insert when removed from cow
Lodges easily and reliably
Suitable for treating non-cycling cows or oestrus synchrony programs
Description
Intravaginal insert containing 1g progesterone in a slow release form for controlled breeding in cattle.
Pack Sizes
Available in foil packs of 10 inserts.
Action
Serum progesterone concentrations rise when the device is inserted, suppressing oestrus. Progesterone concentrations fall when the insert is removed, leading to oestrus and to ovulation shortly after.
Indication
For treatment of postpartum anoestrus (non-cycling cows). For the synchronisation of oestrus in maiden heifers and cows to enable concentrated artificial insemination (AI) and embryo collection and transfer.
Dosage
One device per cow or heifer to be inserted into the vagina using a specifically designed applicator. Reproductive treatment and oestrus synchronisation programs may be modified according to veterinary advice.
Contraindication
Not suitable for use in animals with abnormal vaginas. Animals in poor condition resulting from illness or nutritional stress may not respond.
Withholding times
Nil. Remove inserts before slaughter.
Human First Aid, Symptoms of Poisoning
Wear rubber gloves when handling the DIB-V inserts.

Other
Store at room temperature in original packaging.
Restricted Veterinary Medicine, ACVM Registration Number A10319