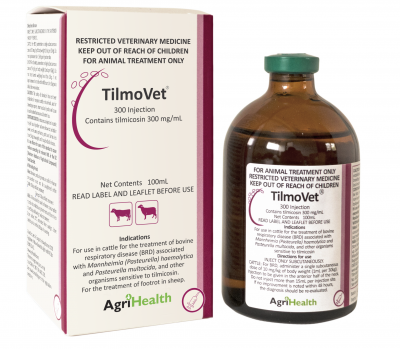 TilmoVet 300 Injection
Contains 300 mg / mL tilmicosin for cattle and sheep
Features
Injectable Restricted Veterinary Medicine (antibiotic) for sheep and cattle

Fast acting absorption following subcutaneous administration

Antibiotic is concentrated in the lungs, especially alveolar macrophages

Tilmicosin injection has very high cure rates of footrot in NZ sheep. Refer Robertson, DRH. 2014 NZVA Sheep & Beef Conference
Benefits
Contact your vet for advice

Available in 100mL bottles

Rapid onset of action against target bacteria

Single injection provides prolonged duration of effect, with an extended period above MIC for many bacteria

Injecting tilmcosion can be very useful within a sheep footrot treatment program. Use under direct veterinary supervision.
Description
Antibiotic solution for injection containing 300mg/mL tilmicosin
Pack Sizes
Available in 100 mL glass bottles
Action
Tilmicosin is a semi-synthetic antibiotic of the macrolide class. It has been shown to be active in vitro mainly against Gram positive organisms (Streptococci, Staphylococci) and some Gram negative microorganisms (Pasteurella spp, Mannheimia haemolytica), as well as against Mycoplasma spp.
Indication
For the treatment of footrot in sheep.
For use in cattle for the treatment of bovine respiratory disease (BRD) associated with Mannheimia (Pasteurella) haemolytica and Pasteurella multocida, and other organisms sensitive to tilmicosin.
Dosage
Directions: Inject only subcutaneously in the anterior part of the neck.
CATTLE: For BRD, administer a single subcutaneous dose of 10 mg/kg of body weight (5mL per 150kg). Do not inject more than 15mL per injection site. If no improvement is noted within 48 hours, the diagnosis should be re-evaluated.
SHEEP: For footrot, administer a single subcutaneous dose of 5mg/kg of body weight (1mL per 60kg). Do not treat lambs weighing less than 15kg.
Withholding times
Meat: Cattle 28 days
Sheep 42 days
Milk: 35 days
Special Precautions
Exercise extreme caution to avoid accidental self-injection. Injection in humans has been associated with fatalities. Do not work alone when using TilmoVet. Do not use in automatically powered injectors or syringes. Do not carry a syringe loaded with TilmoVet with the needle attached, except for filling the syringe or for administration to the animal. Remove needle at all other times. Please contact AgriHealth for detailed handling instructions and or to purchase needle stick resistant gloves.
In case of human injection, consult a physician immediately and apply ice or cold pack to the injection site.
May cause skin and eye irritation, and may be harmful if swallowed.
Other
Store in original container, locked up, avoiding direct sunlight and temperatures above 25°C. Use within 28 days of opening.
Restricted Veterinary Medicine, ACVM Registration Number A11195