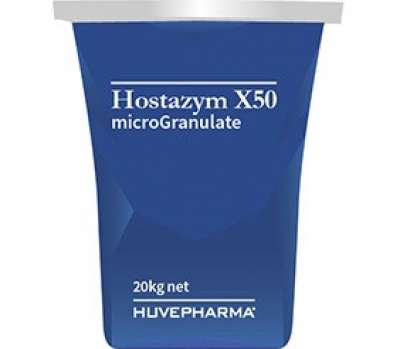 Hostazym X microGranulate
Xylanase based NSP enzyme suitable for poultry and pig feeds
Features
Produced by surface fermentation on a wheat bran substrate matrix

Demonstrated performance in both wheat dominant and corn/soy based diets

Standardised to xylanase activity but also contains significant quantities of other NSP degrading enzymes

Active with both soluble and insoluble non-starch polysaccharides

Superior microGranulate form
Benefits
Thermostable during pelleting due to intrinsic heat tolerance

Proven in both pigs and poultry across a wide range of diets
Activity across wide variety of feed ingredients

Balanced NSP enzyme that helps release nutrients and optimises digesta viscosity

Uniform distribution throughout feed with minimal dust
Description
Minimum 30,000 EPU/g activity; endo-1, 4-beta xylanase enzyme produced by Trichoderma species
Pack Sizes
Available in 20kg bags
Action
Enzyme which breaks down non-starch polysaccharides (such as arabinoxylans), as found in vegetable material, to improve digestibility of carbohydrates in feed.
Indication
Suitable for inclusion in feed for broiler chickens, laying hens, turkeys, piglets and pigs for fattening to improve the digestibility non-starch polysaccharides found in vegetable material (e.g. wheat and corn). Improved gut health and productivity has been demonstrated in both wheat dominant and corn/soy diets for broilers and laying hens.
Dosage
Hostazym X inclusion rate is 50g per tonne of feed intended for broiler chickens, breeder chickens, turkeys, piglets, and pigs. This rate provides 1,500 EPU per kg of feed.
The recommended inclusion rate for laying hens is 35g - 50g per tonne feed (ie 1,050 - 1,500 EPU per kg).
Withholding times
Meat: Nil
Eggs: Nil
Human First Aid, Symptoms of Poisoning
Other
Store below 25°C in original packaging, securely closed in a dry place.
Exempt from ACVM registration