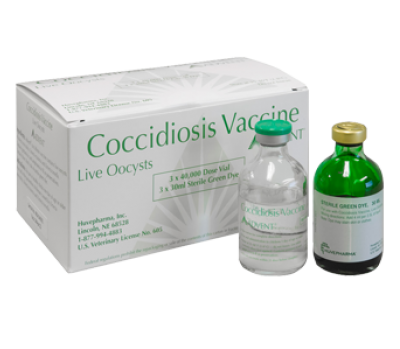 Advent
Contains live Eimeria oocysts for inoculating chickens

Features
Innovative tool for control of coccidiosis in broiler chickens

State of the art manufacturing process in USA

Quality vaccine with precision sporulation, and sporulated oocysts counted and measured for viability / infectivity


Contains specifically selected strains of each Eimeria species

Challenge studies have shown robust protection following vaccination
Benefits
Focus on batch-to-batch and serial-to serial consistency resulting in optimal dosage of infective sporulated oocysts for immunity development without overwhelming chicks

Premium quality inoculant for broiler chickens, with very high purity

Selected strains for broader immunity, naturally low pathogenicity and sensitivity to coccidiostats

Advent reduces reliance on anticoccidial medication, and encourages introduction and proliferation of Eimeria strains more sensitive to coccidiostats
Description
Coccidiosis oral vaccine for broiler chickens containing live oocysts of Eimeria maxima, E. tenella and E. acervulina
Pack Sizes
Pack containing 10 vials of 10,000 doses each; 100,000 chick doses per pack, and also 10 x 10mL vials of sterile green dye
Action
Advent contains low pathogenic, high immunogenic, coccidiostat-sensitive strains of Eimeria maxima, E. tenella and E. acervulina. Vaccination of chicks provides an alternative method to control coccidiosis. It also allows a broiler operation to restore anticoccidial sensitivity by introducing new, coccidiostat-sensitive strains into the environment.
Indication
Advent is an aid in the prevention of coccidiosis in broiler chickens caused by Eimeria maxima, E. tenella and E. acervulina.
Dosage
DIRECTIONS FOR USE:
For use in healthy broiler chickens one day of age or older.
Shake vial well before using. Dilute vaccine with clean tap water using a clean container.
SPRAY CABINET APPLICATION: Dilute each 10,000 dose vial according to the spray cabinet manufacturer's recommendations. When using a Huvepharma supplied spray cabinet, it is recommended to dilute 10,000 doses to 2,500 mL.
For spray cabinet application, include sterile green dye in the dilution to encourage oral ingestion.

ON FEED APPLICATION: Dilute each 10,000 dose vial to 4,000 mL and apply to the first feed chicks receive. A method of application should be chosen that ensures rapid, even coverage of the total surface area of the feed available to the chicks, e.g. coarse spray over ready laid feed. Stir contents of sprayer periodically. Ensure a dose rate of 0.4 mL per chick will be delivered based on expected feed consumption rate.
By law the user must take due care, obtaining expert advice when necessary, to avoid unnecessary pain and distress when using the product other than as directed on the label.

Withholding times
Nil
Special Precautions
Feed or water containing anti-coccidial medication should not be given to chicks receiving this vaccine for 21 days post-vaccination.


Other
Store at 2 - 8°C away from sunlight. Do not freeze. Discard all unused concentrate and prepared product within 10 hours of vial opening.
Registered Veterinary Medicine, ACVM Registration Number A11395