Back to latest-news
AgriHealth recently hosted their Technical Seminar for Rural vets
28 June 2019
AgriHealth recently hosted their annual Technical Seminar with a focus on the future of dairy health and wellbeing. Over 100 vets from across the country travelled to the Waikato for a day of presentations from different industry leaders finishing with a tour and festivities at world famous tourist attraction Hobbiton, near Matamata.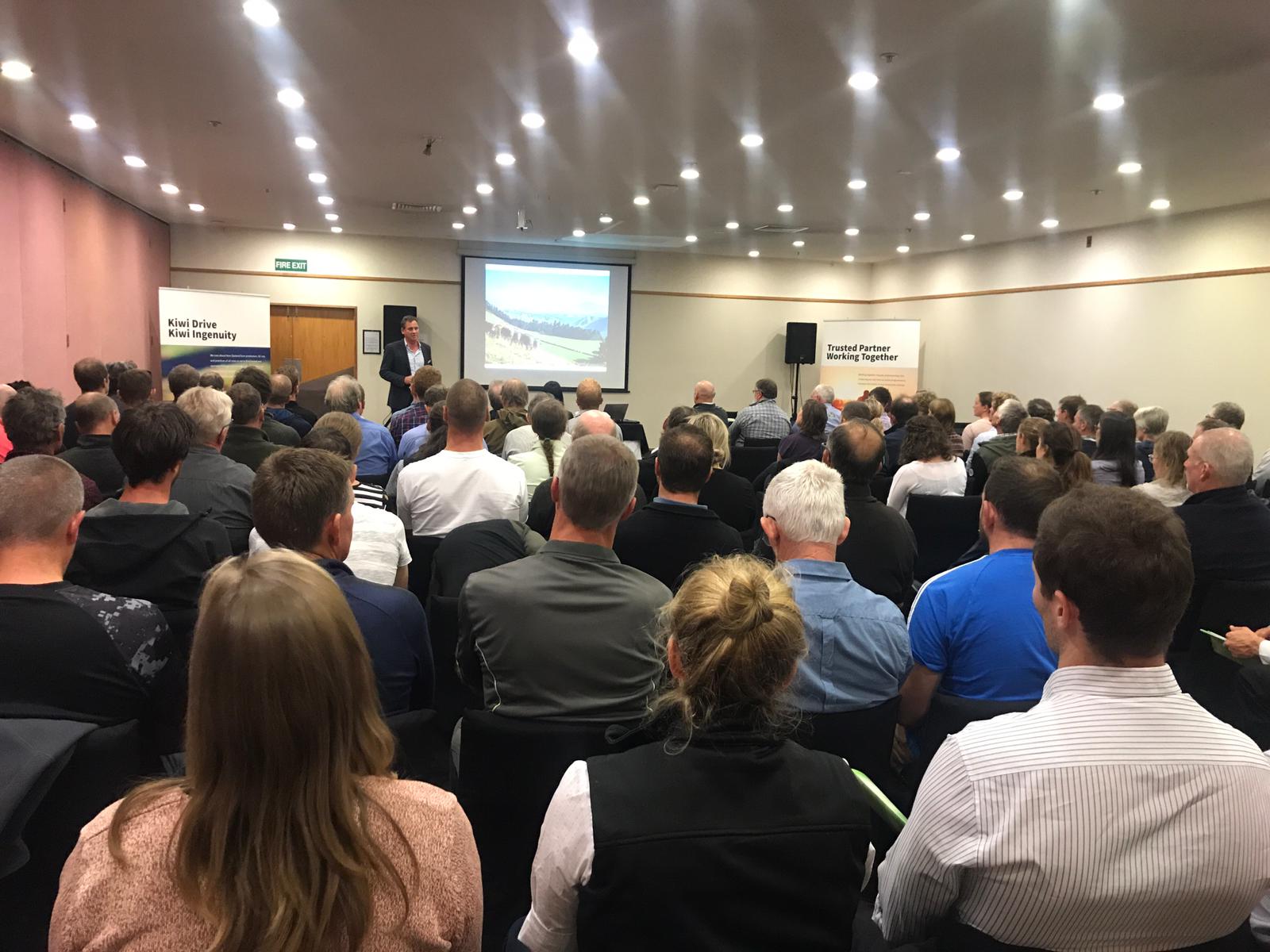 There was a wide range of different speakers including Mike Williams (MW Design), Simon Yarrow (Callaghan Innovation Group), Mark Bryan (VetSouth), Laura Young (AgriHealth NZ), Richard Laven (Massey University), Krispin Kannan (Vetent), Justine Kidd (Theland Group), Andy Millar (Mastatest), Fred Hoekstra (Veehof), and Jon Huxley (Massey University).

There were three main themes that were addressed at the seminar. These were 'The way of the future', 'Latest Clinical Research Findings' and 'Improving Farm businesses'.
Mike Williams spoke about how sophisticated animal models are being adopted by institutions such as Massey University to train veterinary students and AI technicians. This can sometimes remove the need to train on live animals, or can improve skills and expertise prior to moving onto the 'real thing'.
Simon Yarrow spoke about the global trends around food demands, agritech innovation and potential threats facing food technologies such as animal free 'Meat' and 'Dairy' products. He challenged the audience to review their business strategy and determine priorities for the future- innovation and sustainability in a digital world.
The Latest Clinical Research Findings section of the technical seminar gave an update from Mark Bryan about tail damage and tail scoring, and what is considered 'normal' in terms of tail damage, and whether that should be acceptable.
Laura Young, AgriHealth's Technical and Regulatory Manager gave an overview of AgriHealth's research and trial work over the last decade, and reminded the audience of the best non-cycler programme. This is especially important as the industry continues to shorten mating periods and strives to tighten calving spread.
Jon Huxley, Head of Massey Vet School, summarised pain relief in animals and perception amongst different groups of people (ie. males and females, vets and farmers) about how farm animals felt pain.
Andy Millar from Mastatest spoke on the trends in antimicrobial sensitivity in cattle antibiotic use and how on farm mastitis tests, such as Mastatest are gaining in popularity.
Moving to the 'Improving Farm Business' section, Justine Kidd spoke on the importance of benchmarking for optimal dairy farm performance. She outlined the differences between the different Theland Farms. She noted the importance of motivated key staff within the Theland Farms business.
Fred Hoekstra, from Veehof, advised the audience on the importance of correct hoof trimming and to consider the weight distribution when trimming the feet of lame cows.
Richard Laven and Krispin Kannan spoke on behalf of eight veterinarians delegated to visit the Syntex eCG production facilities and farm in Argentina. Syntex produces over half of the world's eCG on their own farms, strictly overseen by their vets and staff.
The AgriHealth Technical seminar has become the annual event not to be missed and 2019 was no exception!