Back to news+research
AgriHealth launch novel IBR vaccine
22 September 2017
AgriHealth have launched the first marker vaccine for cattle in NZ; Biobos IBR marker. Working with an innovative manufacturer from Europe, the product will be a real asset for vets and farmers trying to control infectious bovine rhinotracheitis (IBR).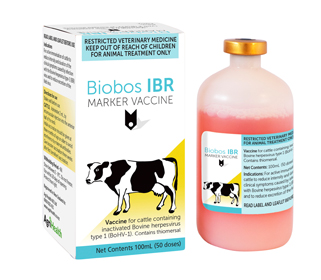 A marker vaccine means it is possible to differentiate infected animals from vaccinated (the DIVA principle). A specific (differentiating) laboratory test is required. Marker vaccines have allowed many countries in the EU to undergo eradication programs, or at least restrict the spread of IBR.
Vaccination and cyclic re-vaccination
prevents transmission of the IBR virus from the mother to the foetus during pregnancy, resulting in negative calves and,
prevents IBR virus excretion during reactivation of the latent infection and/or
reduces duration of virus excretion and excreted virus quantity, thus restricting the possibility of virus transmission
Studies have shown that vaccination of latently infected animals results in less excretion of virus by up to 50,000 times, compared to unvaccinated animals.
In New Zealand IBR is widespread within the dairy and beef cattle populations. Positive testing for IBR infection prohibits trade of live cattle and gametes to international trading partners. Biobos IBR marker vaccine, where the DIVA principle can be utilised, provides a tool to reduce transmission of virus within populations, allowing reduction of prevalence of IBR infection and thereby increasing farm productivity, and would also increase the number of cattle potentially available for export.
For more information please see the Biobos Brochure, Fact Sheet and Technical Bulletins (TBV6, TBV7, TBV8)